WE JOURNEYED TO THE SOURCE TO EXPLORE THE STORIES OF THREE INDIAN FARMERS WHO WE'VE SUPPORTED IN CONVERTING TO ORGANIC FARMING. 
Homemade botanicals, improved soil quality and hard work… they're all part of the cultivation process used to create our organic cotton range. As well as sharing our new premium cotton collection, we wanted to go back to the start to find out why different farmers, all with varying years of experience farming organically, decided to make the change to organic methods.
RETURNING TO ORGANIC 
Our story begins twenty years ago, before genetically modified organisms (GMOs) were introduced and every cotton farm was organic. Over time, many farms became reliant on man-made chemicals to get the most out of their genetically modified seeds. Consequently, genetically modified farming took over the majority of farms. We spoke with three of our organic cotton farmers, each from different villages in India, to understand why they decided it was worth converting back to organic processes.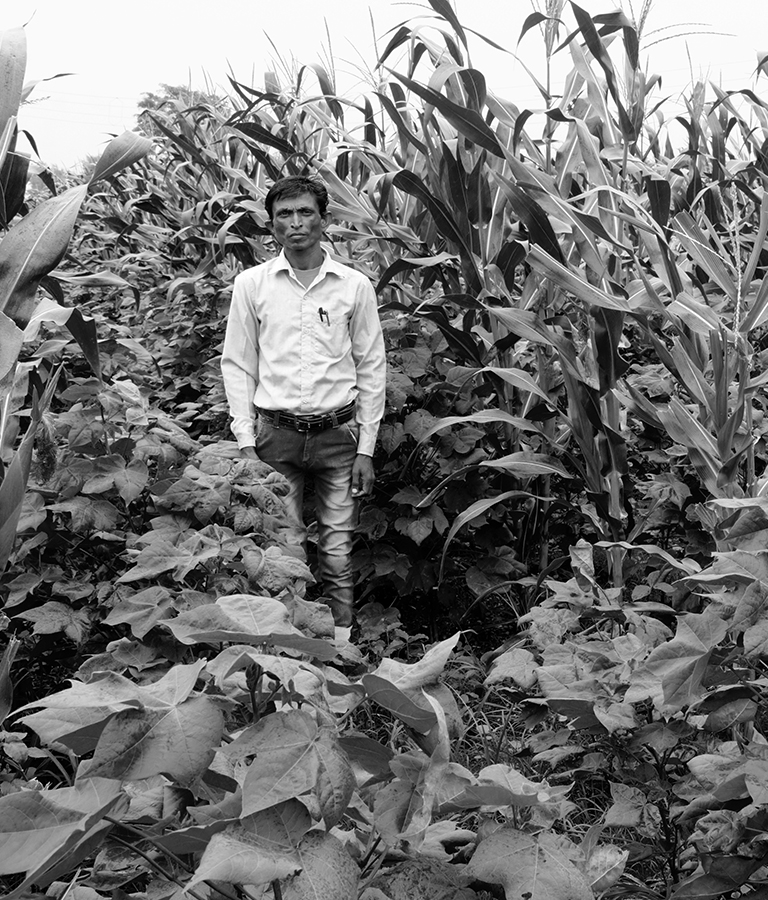 Subhash Shivlal Meher is an experienced organic cotton farmer from Pimpri village in India. He has been farming organically since 2014. "We realised that if we continued farming with chemicals, our land would become infertile and salty in the future. We felt that if want to save our land we need to shift to organic farming methods, and we immediately reduced the use of chemical fertilisers and moved towards organic farming."
It takes four years to be certified as organic, and Mansharam Gyan Singh, from Dhabla village, has now been farming organically for over four years. As a lead farmer, he is trying to convince other farmers to convert to organic methods. "Chemical farming is costly, whereas, with organic farming I can prepare everything I need for my fields at home."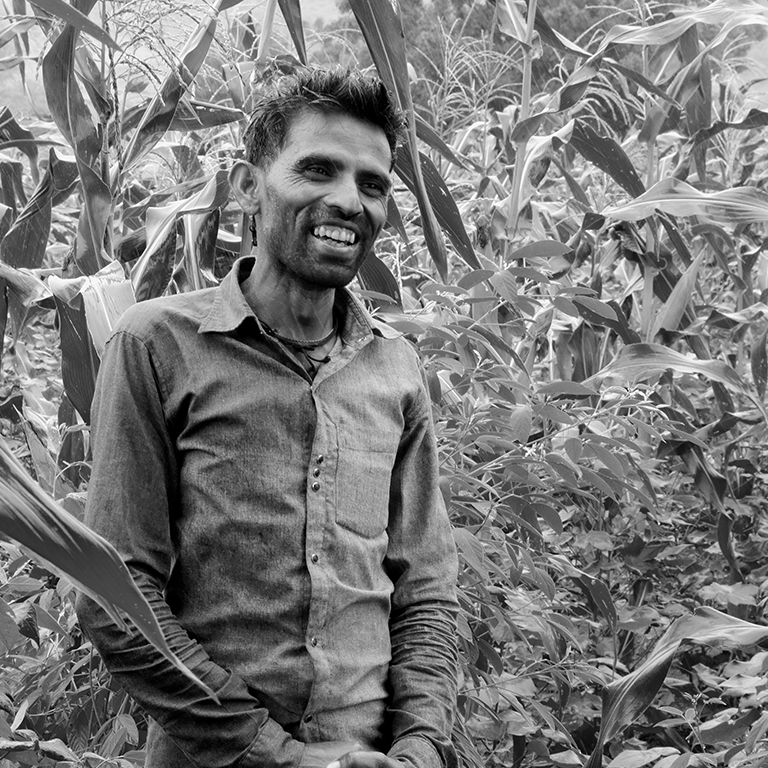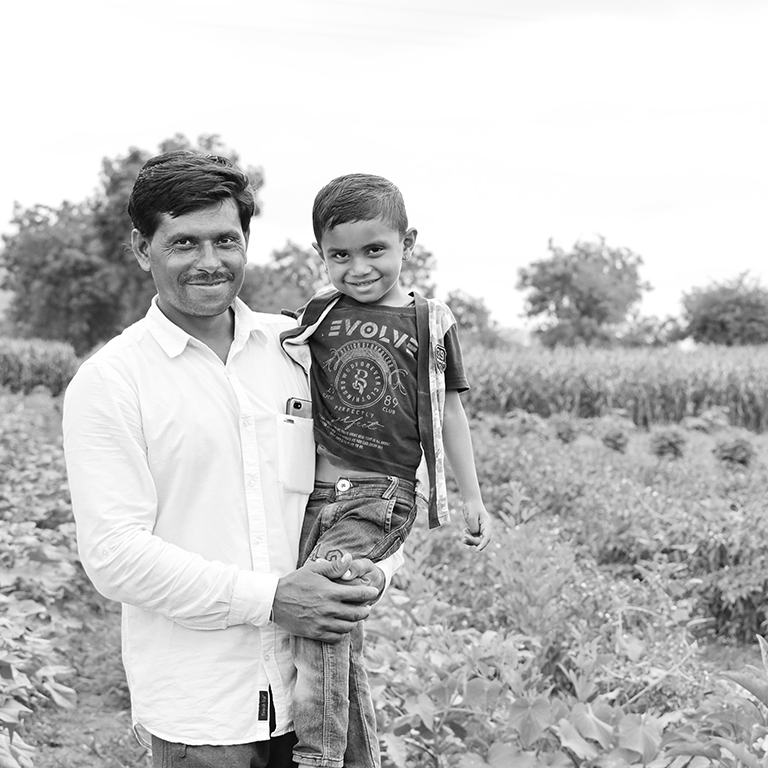 Gandhram Barde, from Garhi village, is at the beginning of his organic journey and in the process of converting to organic farming. "Some of my fellow farmers in my village were using organic agriculture. I got inspired by them and joined organic farming." He was guided by lead farmers, who informed him about organic processes. "In organic agriculture we are able to make our own inputs, such as manure and botanicals, so we are not dependent on the market."
THE CHALLENGES & REWARDS 
From improved soil integrity to a reduced water footprint and no use of chemicals and pesticides, organic processes have many benefits for the land, farmers and communities. 
Over the six years Subhash has farmed organically, his confidence in these natural processes has grown. "Initially, we felt it was impossible to shift from chemical based inorganic farming to organic farming." Compared to the situation before he converted to organic farming, Subhash is convinced of the advantages. "I continued farming organically because I saw the hazardous effects of chemical farming on our land, health and environment." 
When Mansharam first converted to organic farming, he saw additional benefits; "Along with cotton, I can grow other crops – such as maize, pigeon peas and mung beans – effectively, as well." 
Although Gandhram has only been farming organically for a few years, he has begun to see results. "In the first year, I saw some improvement in the soil. We also saw some difference in yields. I've noticed that the soil becomes softer as we continue to farm organically. It is also holding water better."
COMMUNITY BENEFITS 
Superdry is working with around 2,000 farmers in Madhya Pradesh and Maharashtra, India, to help them transition sustainably into organic farming. Currently, there isn't enough pure organic cotton being produced for the increasing demand, as it represents less than 1% of global cotton production, but the word is spreading. 
Within India's remote farming villages, the organic tide is turning. Subhash explains: "Reaction to organic farming has changed over a time in our community. In the beginning of the project in our village there was resistance towards organic farming." The results from farmers who had already converted helped change opinions. "The village farming community
Mansharam has also found that showing farmers his own organic farm helps convince them that the effort required to convert is worth it. "When neighbouring farmers come and see my land they say, 'Your soil is softer!'" 
Even closer to home, Gandhram found it was his family he needed to convince first. However, after Gandhram and the lead farmers informed them about the benefits, they got onboard. "My family has accepted it and they have confirmed that they will only do organic farming in future."
FUTURE AIMS 
Over 20% of our 2020 range is made from organic cotton but this is already about 2% of the world's organic supply. Around one in five garments we made this year was organic and we've made a commitment for all our cotton to be 100% organic by 2040. We're currently ahead of schedule. Not just by a month or two, try 10 years ahead. So, we're now aiming for all Superdry cotton to be 100% organic by 2030, and our hope is to see many more farmers convert to organic methods over the next ten years. 
The end result of all our organic cotton farmers' hard work is high-quality naturally sustainable fabrics. The process creates the best possible virgin fibre to craft the best clothing for our new season collection.
When you purchase a new piece from our organic cotton collection, as well as elevating your style with a true expression of natural beauty, you're also joining with us in supporting farmers like Subhash, Mansharam and Gandhram, and all those currently transitioning to organic, to create a better life for their families, a better product for you and a positive impact on our planet.